Message from
Council Member Pool
Dear Friends,

This week, the City of Austin announced that Austin-Travis County has entered Stage 4 of the Risk-Based Guidelines for COVID-19. We've entered this stage because of a concerning upward trend in hospital admissions, patients in the ICU and on ventilators, and in overall cases. Under Stage 4, individuals who are higher-risk – those over the age of 65, and those with chronic medical conditions – are strongly encouraged to avoid social gatherings with more than two people and non-essential activities.
Given the heightened risks of COVID-19, the City extended the Stay Home – Work Safe Order until August 15, matching the Travis County order. The press release can be found here, and more details are included below and on the City's COVID-19 website.
In addition, Mayor Steve Adler signed an order effective June 17th, mandating business, with a few exceptions, to require face masks for employees and customers. More information regarding enforcement and penalties will be available on the Cit's COVID-19 website next week.
There is some good news on the testing front: COVID-19 testing options have expanded in Austin-Travis County. A new hotline is offering enrollment for public testing via phone, and Austin Public Health (APH) is rolling out options for home testing and mobile testing in neighborhoods. Additionally, a new isolation facility is set up at a hotel for those who cannot safely quarantine at home. More information is provided below in the Assistance for Residents section.
During this time, it is critical that we remain diligent about social distancing and limiting non-essential activities. It takes all of us working together to ensure we are doing everything we can to keep our community as safe as possible.
###
On a different note, I'm excited to announce the District 7 Virtual Budget Town Hall to be held on Monday, July 20th at 6pm. Deputy Chief Financial Officer Ed Van Eenoo and I will discuss the FY21 Budget process and the City's COVID-19 spending framework. After our presentation, we'll host a Q&A session for attendees. This is a great opportunity to learn more about the City budget process and I strongly encourage you to attend! You can register here for the District 7 Virtual Budget Town Hall.

I am also thrilled to introduce the newest member of our team: Heidi Kahle. Heidi is a native Austinite, and she holds a B.A. in Sociology from Rice University and MPAff from the LBJ School of Public Affairs. She will be working with my team on policy, constituent services, and scheduling. Welcome Heidi!

Finally, I want to remind you all about the importance of filling out the new census. Please spread the word in your neighborhood and on social media with the information provided below in our Community News section so that we can have as many residents participate as possible. You can reach me here If you're interested in supporting our efforts to get the word out.

We will take a brief break from District 7 newsletters until late July, right before the city council returns for budget hearings and the next council meeting. In the interim, I will send reminders about the District 7 Virtual Budget Town Hall on July 20th.

Today, on Juneteenth, be sure to visit the two new, beautiful murals in our city that celebrate our Black community and the Black Lives Matter movement. I've posted videos of these murals just below.

I want to thank you all for your commitment to making our city a safer, healthier, and more equitable place.

Stay safe and healthy,

Leslie
Aerial video of the new "Black Austin Matters" street mural on Congress Avenue. Capitol View Arts and the Austin Justice Coalition partnered with the City of Austin to paint the mural in downtown Austin. Video credit: SKYFOX drone footage
Video footage of the "Black Artists Matter" mural on East 11th Street in East Austin. Capitol View Arts and the Austin Justice Coalition, who also partnered to paint the "Black Austin Matters" mural on Congress Avenue on Tuesday, picked the spot for this mural because of its history as the heart of of the African-American
community in East Austin. Video credit: ATXN
Index for this newsletter:
You're invited to the District 7
Virtual Budget Town Hall
on Monday, July 20 at 6pm

Join Council Member Leslie Pool and Deputy Chief Financial Officer Ed Van Eenoo to discuss the FY21 Budget and process and the City's COVID-19 spending framework. The presentation will be followed by a moderated Q/A session where attendees will be able to submit questions via the chat function in real time. Attendees who are calling in and not using the video platform should e-mail their questions for the panelists at budgetqa@austintexas.gov.

Register to attend using the link below. When you submit your registration, you will receive an email containing the video link and call-in number.

Registration Link:
https://austintexas.webex.com/austintexas/onstage/g.php?MTID=e5b3f37a623e9c5bd7c1ee6399fb23613
Password: District7Budget
(type in password only during start of town hall)

If you're unable to attend, a recording of the meeting will be made available a few days after the meeting at AustinTexas.gov/Budget. We know theses are challenging times for many people, which is why it's more important than ever to know what the City of Austin should prioritize in the next Fiscal Year's Budget. We want to know the priorities that are most important to you and your family. Take our survey through July 1 to share your feedback on the City's budget priorities.
For more information on the budget process and to provide feedback, visit
AustinTexas.gov/Budget
.

To get reminders for the District 7 Virtual Town Hall, sign up for the District 7 newsletter here
.
Virtual News Conference on Revised City & County Orders

Austin-Travis County enters Stage 4

As of June 15, Austin-Travis County is moving out of Stage 3 and into Stage 4 based on Austin Public Health's (APH) Risk-Based Guidelines. On June 14, Austin-Travis County surpassed 20 new COVID-19 hospital admissions per day, based a on a 7-day moving average. The current average is 20.6. Additionally, other metrics , such as patients in ICU, ventilators usage, and 7-day moving average of cases is trending upward.
In Stage 4, higher-risk individuals (those over the age of 65 and those who have chronic medical conditions) should avoid social gatherings and any gatherings greater than two people. They should also avoid all non-essential travel and avoid dining and shopping unless it's essential.
Lower-risk individuals are advised to avoid social gatherings and any gatherings greater than 10 people, non-essential travel, and to avoid dining and shopping except with expanded essential businesses.
The stage may shift between 3 and 4 depending on patterns. APH recommends individuals follow the advice on the Risk-Based Guidelines depending on the stage we're experiencing. The 7-day average for admissions is updated daily on APH's Key Indicators dashboard.
Over the past few days, the number of new COVID-19 cases reported per day in Austin-Travis County has also jumped into the triple digits, with 147 new cases recorded on June 14.
"Our numbers in Austin are geometrically increasing. At the rate we are going now, more people will get sick and will die than if we wore masks and stayed 6 feet apart," Mayor Steve Adler said. "We each need to pause, think deeply and then decide what is important to us. We will demonstrate what we value by how we act."
As more businesses reopen, Austin-Travis County leaders want to remind the public to continue to be vigilant and practice good hygiene, physical and social distancing, and wear face coverings to prevent the disease from spreading and help keep each other safe.
"We shouldn't have to choose between the economy or public health. Our community must choose both," Interim Austin-Travis County Health Authority Dr. Mark Escott said. "And those simple things, the masking, the social distancing, the personal hygiene, is how we achieve both. There is no reason why we cannot all get behind those simple things so that we can do both effectively."
"This community has proven we are ready, willing and able to adapt our behaviors to keep our co-workers, neighbors and families safe. The increase in new case numbers and daily new hospitalizations shows it's time to mobilize," Sarah Eckhardt, Special Assistant to Travis County Judge Sam Biscoe, said. "It is imperative we dial back our interactions to essential activities, commit fully to wearing face coverings, and take special precautions if we are or live with a person over 65 or a person with health vulnerabilities. Stay Covered to Stay Open!"

Updated Orders
Austin and Travis County residents are directed to continue practicing social distancing, hygiene, and face-covering behaviors under Orders adopted today, June 15, by City and County leaders.
The Travis County Order, which expires on Aug. 15, 2020, states: "COVID-19 remains a public health emergency. While services and businesses begin to reopen, medical and scientific experts agree that doing so presents a risk to public health and increased community spread of COVID-19."
It adds: "People should not be in groups larger than 10 people and should maintain social distancing from those not in their group."
The City of Austin Order, which replaces the existing Stay Home-Work Safe mandate and also expires on Aug. 15, 2020, states that social gatherings of up to 10 people shall be "avoided or minimized."
Socializing or attending outdoor events in groups of more than 10 individuals outside of the same household is prohibited. Nothing in the Orders prohibit the gathering of members of a household within the household's residence.

Read the Austin Mayor's Order HERE.
Read the Travis County Judge's Order HERE.

The Orders make exceptions for certain behaviors, including those permitted by the Texas Governor. But all individuals and businesses are told by the City's Order to comply with the minimum health protocols in the Governor's Open Texas Checklists, found at: gov.texas.gov/organization/opentexas.
A number of measures in the City's Order are continuations of the previous Orders. These include a recommendation for businesses to keep "activity logs" to help Austin Public Health track and trace potential cases among customers, and restrictions on visitors to nursing homes, retirement and long-term care facilities.
The City's Order also states, while the City of Austin is declared to be in a Stage 4 Alert (or higher), all businesses and operations reopened under the Governor's Executive Orders are strongly encouraged to operate at a capacity less than otherwise permitted to make it more feasible for customers and staff to maintain proper social distancing within their establishment.
The Order includes requirements for households to isolate and not travel outside Austin-Travis County if a member of their household tests positive for COVID-19, or is awaiting test results, until cleared by APH.
While the Orders include general requirements for face coverings – noting that they cannot be enforced by civil or criminal penalty – they also state that "maintaining 6 feet social distancing and hand washing" are equally important steps to slowing the spread of the virus.

For the latest information and updates, visit AustinTexas.gov/COVID19.
COVID-19 Testing Options Expand in Austin-Travis County

Nursing hotline offers public testing enrollment via phone; mobile testing improves testing accessibility; isolation facility offers place to safely isolate
Austin, Texas – The barrier of needing the internet to register for a COVID-19 assessment is now addressed with a nursing hotline to help with
testing enrollment
. Austin Public Health (APH) is making testing more accessible by rolling out mobile testing in neighborhoods where residents may have difficulty visiting a drive-thru testing location or CommunityCare clinic. People with COVID-19 symptoms or who are COVID-19 positive and do not have a place to safely isolate may utilize a free City of Austin Isolation Facility, ISOFAC (video links from pool reporters available below).

To reduce the technology barrier to accessing testing, APH has expanded
public testing enrollment
to its nursing hotline. Those wishing to complete the COVID-19 Public Testing Enrollment Form via phone should call 512-972-5560 to complete their assessment. Once they complete the assessment interview, the call taker will assist them in scheduling a test. The hours of the nurse hotline are 8 a.m. - 6 p.m. Monday through Friday, and 9 a.m.–1 p.m. Saturday.

Online enrollment remains open at
austintexas.gov/COVID-19
.

"COVID-19 testing is a vital resource for residents of Austin-Travis County," said Dr. Mark Escott, Interim Austin-Travis County Health Authority. "By offering assessments over the phone and utilizing mobile testing, we are continuing to fight a virus that has proven to be nondiscriminatory based on access to the internet or a mode of transportation."

In addition to expanding assessment capabilities, APH is making COVID-19 testing available to a broader section of the Austin-Travis County community by offering mobile testing with pop-up testing and home testing options.
Pop-up Testing
APH is partnering with CommUnityCare to develop a joint map and process to ensure that mobile testing efforts are conducted in targeted zip codes that are historically underserved. Pop-up testing sites are being determined based on areas with high positivity rates, low testing rates, and community feedback for desired locations. Pop-up testing is expected to start in the next couple of weeks.

Pop-up testing locations, which will be visiting the same areas multiple times per week, will be shared at
austintexas.gov/COVID-19
and on social media once available. Additionally, the pop-up testing locations will be listed as testing site options when individuals fill out the online assessment form or call the nursing hotline for
enrollment
.
Home Testing
Home testing units will allow medical professionals to administer tests in the patient's home, helping to limit person-to-person spread by keeping potentially-infected residents quarantined at home.
Homebound or transportation-limited individuals can call the nursing hotline (512-972-5560) starting Thursday, June 18 to schedule a home test. Home testing is still in its pilot phase, and availability of this program may change in the future based on staff capacity and public demand.
Isolation Facility
Austin-Travis County has an isolation facility (ISOFAC) set up at a hotel for people who cannot safely self-isolate at home (e.g. tight living quarters with family members). This option is available to patients who have tested positive for COVID-19, as well as people who are under monitoring or investigation for the virus.

Individuals wishing to stay at the ISOFAC should call the intake line at 512-810-7554 to make arrangements. Residents may be required to provide proof of testing status if they did not
enroll
with APH for testing.
Individuals eligible to stay at the ISOFAC are not charged for the service. Patients who stay at an ISOFAC have their own free hotel room with food and WiFi.
Two pool reporters toured the ISOFAC today and have provided footage of an interview with staff in English and Spanish, as well as b-roll from the facility.
· English interview:
Part 1
;
Part 2
;
Part 3
;
Part 4

·
Spanish interview

· B-roll:
Set 1
;
Set 2
Public Testing Enrollment Numbers
Since the Public Testing Enrollment Form launched at the end of April, more than 33,000 assessments have been completed. As of June 16 at 9 a.m., nearly 17,100 individuals have been scheduled for and/or completed a test.

Test results for 8,264 individuals show 458 patients tested positive for COVID-19 (5.54% positive rate). This only includes data from the APH testing site.
For more information and updates, visit
www.AustinTexas.gov/COVID19
.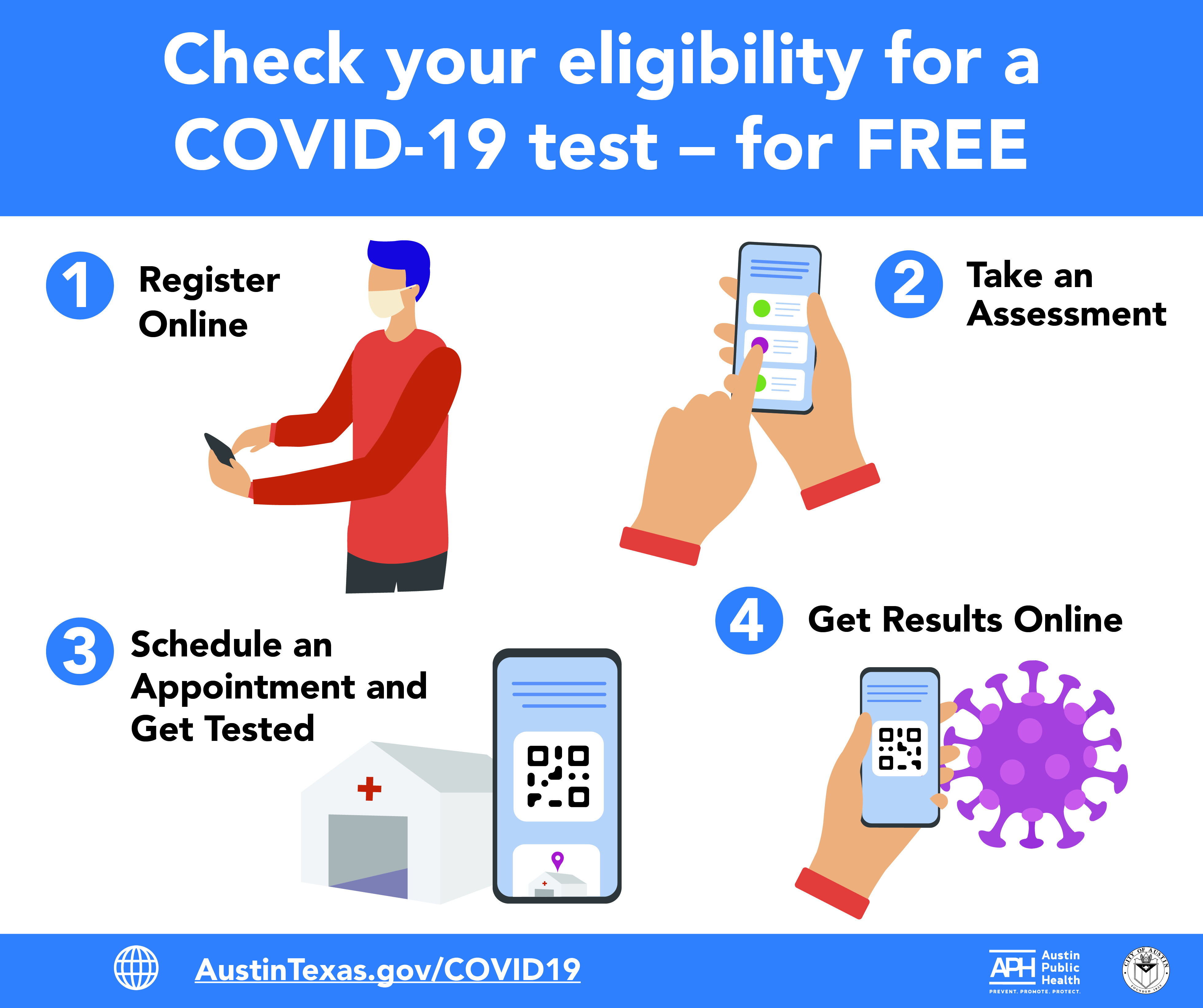 Seeking Emergency Care During COVID-19
Utility Bill Relief

City of Austin Utilities customers may be eligible for financial assistance on their utility bill if they have been impacted by COVID-19. Between Austin Energy and Austin Water, we've put an additional $12.3 million into the Plus1 program to allow us to help more customers! To apply for assistance, go to:
AustinBillHelp.com
.

Customers are eligible for Plus 1 emergency assistance if they, or a member of their household, have experienced a financial hardship, loss of job, or reduction in income related to COVID-19. This includes financial hardships based on illness, caring for a family member, shelter in place orders and the resulting closure of non-essential businesses, as well as school and child care facility closures.
Relief in A State of Emergency (RISE) Funds Update
Here is an update on the disbursement of $13,000,000 in Relief in a State of
Emergency (RISE) Funding, authorized by resolution 20200409-081. Since th
e program's inception, the RISE
program has received over 80 applications from various agencies willing to provide direct relief
and direct financial assistance to
residents impacted by the COVID-19 pandemic and economic
crisis.

During last week's council meeting the remaining $5.6 million in funding was voted on consent by city council and distributed to six new organizations which you can find included in the updated list below. For more information refer to the RISE fund website.
Asian Family Support Services of Austin, 1-877-281-8371
Austin Area Urban League, (512) 478-7176
Austin Diaper Bank, (512) 710-7232
Austin Voices for Education & Youth, (512) 450-1880
Caritas of Austin, (512) 479-4610
Catholic Charities of Central Texas,

(512) 651-6100


El Buen Samaritano. (512) 439-8900
Family Eldercare, (512) 450-0844
Goodwill Industries of Central Texas, (512) 637-7106
Meals on Wheels, (512) 476-6325
St. Vincent De Paul, (512) 251-6995 x101
Survive2Thrive Foundation,

512-308-6028


The Arc of the Capital Area, (512) 476-7044
Workers Assistance Program, (512) 637-7380
Workers Defense Project,

(512) 391-2305


Wright House Wellness Center, (ASHwell Clinic)

(512) 467-0088
The
Violet Crown Care Network
is a COVID-19 response organization formed this spring by neighborhood leaders from Crestview, Brentwood, and Allandale. The organization's mission is to use our network of resources to create a safety net for North Central Austin neighbors affected by the pandemic. We are focused on two programs
–
HEB gift cards for those who have been financially impacted, and masks (NK95 and cloth sewn by volunteers) for frontline workers in our community.
Future phases for the organization will include support for our local musicians with a neighborhood-wide front yard concert evening in the Violet Crown neighborhoods. We will also move toward emergency fund-raising for specific District 7 needs. For more information on the HEB gift card program, or to request masks for a frontline team, visit our Facebook page at
https://www.facebook.com/vccnetwork
.


Governor Abbott, Doctor John Zerwas Provide
Update On Texas' Hospital Capacity
June 16, 2020
Governor Greg Abbott and Executive Vice Chancellor for Health Affairs of the University of Texas (UT) System John Zerwas, MD, today provided an update on Texas' hospital capacity. The Governor noted that despite an uptick in positive cases, there continues to be abundant hospital capacity. Governor Abbott also urged all Texans to continue to do their part to mitigate the spread of COVID-19 and look out for the health of themselves and those around them.
Following the Governor's remarks, Doctor Zerwas presented an in-depth update on hospital capacity in Texas. Doctor Zerwas' presentation can be viewed here.
"As we begin to open up Texas and Texans returns to their jobs, we remain laser-focused on maintaining abundant hospital capacity," said Governor Abbott. "The best way to contain the spread of this virus is by all Texans working together and following simple safety precautions. We all have a responsibility for our own health and for the health of our loved ones, friends, and neighbors. COVID-19 still exists in Texas, and if we are to contain the spread while getting Texans back to work, all Texans must do their part. That means making safe and smart decisions like wearing a mask, washing your hands, and socially distancing in public. The more Texans protect their own health, the safer our state will be and the more we will be able to open up for business."
The Governor and Doctor Zerwas were joined by Texas Department of State Health Services Commissioner John Hellerstedt, MD, and Texas Division of Emergency Management Chief Nim Kidd.
Austin City Council Approves
"Shop the Block!" Pilot Program
Thursday, June 4, the Austin City Council approved a pilot permitting program to allow restaurants, bars, and retail businesses to use more physical space for outdoor dining or shopping. The pilot, sponsored by Council Member Leslie Pool (District 7), began on June 15 and will continue through December 15, with an opportunity for Council to renew the program at their December meeting.

Co-sponsors on this initiative are Council Members Natasha Harper-Madison (District 1), Ann Kitchen (District 5), Sabino "Pio" Renteria (District 3), and Kathie Tovo (District 9).

The pilot includes the ability for these businesses to apply for a 30-day permit to expand their operations outdoors onto their private parking lots and public sidewalk – while maintaining ADA compliance – as well as onto the public parking spaces in front of their establishments, for customer waiting or service.

"We are trying to strike a healthy balance between promoting economic recovery for our small businesses while ensuring social distancing measures can be maintained to keep employees and customers safe," Council Member Pool said. "Businesses and neighborhoods will have the additional benefit of having more pedestrian-friendly and active outdoor spaces."

The Shop the Block! pilot program is available through the Austin Center for Events division. To apply, visit ACE's Shop the Block! program webpage.
CBS Austin: "Shop the Block" allows some Austin
businesses to expand outside to parking lots, sidewalk
KVUE: New initiative ["Shop the Block"] aims to help small businesses expand operations through mid-December
The University of Houston's Hobby School has partnered with the Austin business community to conduct a survey to gauge opinions from businesses in respect to the economy amid COVID-19.

We request that a member of your leadership or other appropriate employee take this survey by Thursday, June 25.

This survey is intended to be taken once and should take no more than eight minutes to complete.
This month, L'Oca d'Oro celebrates its third anniversary with a fundraiser for Good Work Austin, a socially responsible community of local businesses in Austin, Texas invested in creating good jobs for all workers, ensuring a quality workplace, and supporting and amplifying the voices of like-minded businesses.

The evening will feature small plates by local chefs Fiore Tedesco (L'Oca d'Oro), Michael Fojtasek (Olamaie), Sarah Heard and Nathaniel Lemley (Foreign & Domestic), Fermin Nunez (Suerte), and Mari Soto (Sweet Ritual); Open Bar with Special Birthday Cocktails and a silent auction. Funds raised will help GWA provide support and resources to local businesses through its website, educational workshops and trainings.
City Council approves speed reductions
on many Austin streets

Reduced speed limits in Austin neighborhoods and for certain urban core streets were unanimously approved this week by the Austin City Council to improve safety for all travelers. Data collected by Austin Transportation Department's
Vision Zero program
shows that speeding is the primary contributing factor in one-quarter of traffic crashes resulting in death. Based on a year-long comprehensive engineering study of speed limits on City roadways, the City Traffic Engineer determined that roadway speeds should be reduced to achieve safe and prudent speeds on a wide range of roadways in Austin.

These speed management changes are designed to improve safety and enhance the livability of Austin streets for all road users, including people riding bikes and walking, and those who are mobility impaired. In addition, the changes create a more uniform approach to speed limits and enforcement. Currently, speed limits vary from neighborhood to neighborhood.

Initial speed limit changes will be phased in over the next few months with ample time for public awareness efforts to take place. The first change travelers will notice is the installation of new speed limit signage and digital messaging displays informing people of the changes. Some speed limit changes may be accompanied by other roadway treatments like restriping to narrower lane widths or assignment of portions of the street for alternative uses such as biking or parking uses to create a space more conducive to lower speeds. An
updated interactive map
showing a preliminary view of the speed limit changes is now available for the public.

The proposed speed limit strategy is outlined in three parts:
Neighborhood Streets – Streets that are approximately 36 feet or less in width and have primarily front-facing residential land uses will be posted at 25MPH. Some neighborhood streets wider than 36 feet will also have reduced posted speed limits.
Urban Core Arterials – Most major arterial streets within the city urban core bounded by US 183, SH 71, and Loop 1, will be posted at 35MPH or less, with a few exceptions.
Downtown Streets – Most streets within the area bounded by N. Lamar Blvd., Martin Luther King, Jr. Blvd, I-35, and Lady Bird Lake will be posted at 25MPH. Guadalupe St., Lavaca St., MLK Jr. Blvd., 15th St., Cesar Chavez St., and Lamar Blvd. will be posted at 30MPH.
Each year, more than 10,000 people lose their lives to speed-related crashes in the United States. In Austin, speeding is the primary contributing factor in one-quarter of traffic crashes resulting in death. To save lives and create streets that support safe and convenient travel by everyone—whether they are in cars, on bicycles, walking, or using assisted mobility devices—effective speed management is critical.
View the full presentation
to learn more about the recommended speed limit modifications for urban core, residential, and downtown streets.


North Lamar Boulevard Intersection Improvements Update

The Corridor Program Office is excited to share with you that we have recently completed our second of four early-out, intersection improvements along North Lamar Blvd.

Attached you can find before and after photos of the Grady Drive and Cooper Drive intersections, which were completed late May and June 11, respectively.
As you may recall, the City broke ground last December on four North Lamar Blvd. intersections that were to receive immediate improvements as part of the Corridor Construction Program. Through robust partnership between the Corridor Program Office, Austin Transportation and the Public Works Department, we are on track to complete this set of projects well within our expected timeframe, which was within one year of our December 2019 groundbreaking.

Construction continues at W. Powell Lane and Fairfield Drive, and we look forward to sharing news of their completion in the near future.

Cooper Intersection Version 1




Cooper Intersection Version 2




Grady Intersection


Office of Police Oversight Releases 2018
Officer-Involved Shooting Report
The Office of Police Oversight (OPO) has compiled its inaugural officer-involved shooting report for incidents taking place in 2018. OPO reviewed every officer-involved shooting (OIS) incident involving the Austin Police Department (APD) in 2018 to identify any recurring factors and highlight areas for improvement. This report provides insights into officer-involved shootings with incident summaries, related data, and policy recommendations.
View the OPO's 2018 Officer-Involved Shooting Report
HERE
.
The Report finds:
In 2018, there were 12 officer-involved shooting incidents involving the APD.

Most individuals involved in 2018 officer-involved shooting incidents were ethnic minorities, specifically Latinx males.

Most individuals involved in 2018 officer-involved shooting incidents were between 20-28 years old.

The highest concentration of officer-involved shooting occurred in City Council District 2, the borders of which closely mirror those of APD's Frank sector. District 2 and Frank sector cover southeast Austin.

Almost half of all involved officers had between 3-6 years of APD experience, and more than half of all involved officers were between 30-39 years old.

Involved officers used "less-lethal" force before firearms in only one incident.
The report concludes that the 2018 officer-involved shootings highlight many issues that APD must acknowledge and address to provide transparency and accountability to the community. Specifically, officers' failure to use de-escalation tactics in many of the incidents, and failure to use "less-lethal" force options in all but one incident, require further explanation from APD.

Moreover, the 2018 data reveals a disparate concentration of officer-involved shootings affecting individuals who are ethnic minorities, as well as areas of Austin that are historically minority-majority. APD must account for these demographic and geographic disparities because doing so will be essential to effectuate the community policing model APD endeavors to achieve.

The report recommends that APD:
Increase continuing education in de-escalation, response to resistance; crisis intervention and mental health response, and community policing

Publish annual reports related to any officer-involved shooting incidents involving the Department

Increase the OPO's access to officer-involved shooting incident data

Ensure mental health response training, policies, and procedures follow best practices and address shortcomings found in the 2018 City Auditor report
"In the most significant way, officer-involved shootings represent the power that law enforcement officers have over the lives of the civilians they serve. As a result, both OPO and APD must critically analyze each officer-involved shooting incident that occurs and must also look at the aggregate data to determine what substantive policy changes can be made to address any recurring issues," said Office of Police Oversight Director Farah Muscadin.

About the Office of Police Oversight
The mission of the Office of Police Oversight (OPO) is to provide impartial oversight of the Austin Police Department's conduct, practices, and policies to enhance accountability, inform the public to increase transparency, and create sustainable partnerships throughout the community.
Austin Water: North Austin Reservoir and
Pump Station Improvements Project
Austin Libraries: Nature Smart Libraries